Continue the connection with your clients
Virtual meetups can be an excellent way to keep communication open with potential clients, current clients, and team members.
Video conferencing adds an individualized approach to your meetings, and nonverbal cues can significantly change your clients' interpretation of the conversation. When considering video conferencing with your clients, remember to always keep your audience in mind: Among individuals who have smart phones, 48% of Millennials prefer video chats over voice-only conversations, compared to only 19% of Boomers.*
Many platforms allow the host of the meeting to share their screen so presentations can still be made. Some platforms may also allow for text chat functionality along with video conferencing and/or audio-only conferencing. There are also several free apps which allow you to use video chat as a secondary function, such as Facebook Messenger and WhatsApp. Your clients may also have a preference for a particular video chatting platform. Offering them a choice can make them feel more at ease during your meeting.
Looking for conversation-starters or sales concepts?
Call our sales team! (800) 437-7355; Option 2
Tip:
Try emailing a presentation or documents to your clients ahead of your meetings so they have an opportunity to review and be prepared for your conversations. Then, review the presentation and discuss it with your client via a video conference.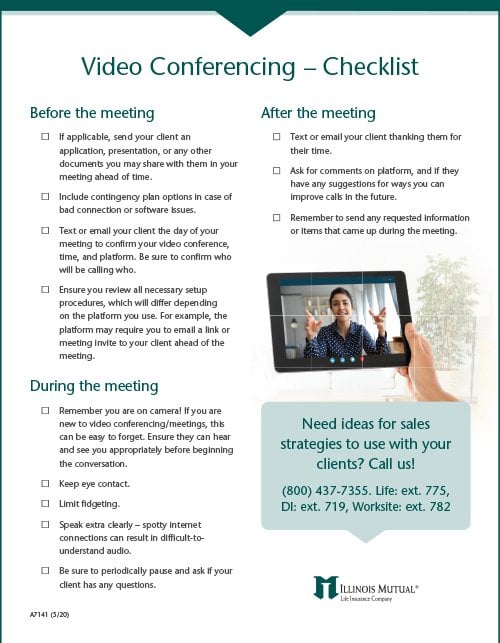 Download this video conferencing checklist for before, during, and after ideas on video chatting with your clients.
Download the checklist
6 tips to fully embrace video conferencing:
1Always remember you're on camera
If you haven't done video conferencing regularly in the past, it can be easy to forget that you're being watched by another party and not just talking on the phone. Be mindful of facial expressions, fidgeting, mannerisms, posture, and other nonverbal cues.
2Set your surroundings
Jumping on a video call with a family member or co-worker is one thing. But when taking a call with a client, be sure to double-check your environment.
Here are some factors to consider:
How is your internet/cellular connection?

How is the lighting?

How is the ambient sound?

What is in view of your webcam that you may not have noticed previously? Is there anything inappropriate for a business environment, or anything that could cause a distraction?

Are your pets occupied?

Are the other members of your household aware that you're conducting business and should not be interrupted?
3Practice, practice, practice
Much like you might practice sales calls or role play a face-to-face presentation, practice your video conferencing skills with peers, friends or family members. This will help you become accustomed to how the technology works so that you can confidently share your screen during meetings, mute yourself when needed, give others access to share their screen and other factors you will discover through practice.
4Plan for tech failure
Technology can be an amazing avenue for communication, but it doesn't come without some downsides. Issues such as a loss of internet connection, software crashes, microphone trouble, et cetera could happen at any moment to you or your client. Creating contingency plans for unexpected situations can help put both of your minds at ease. Share this plan with your client before the meeting and again at the beginning: "Hello Mrs. & Mr. Smith, as we discussed before, in case of a technology glitch, am I still ok to give you a call at (555) 555-5555?"
5Dress appropriately
Ensure you (at least the visible half of you) are dressed as you would be for a face-to-face meeting. You may be working in a different environment, but your attire should still be suitable for a client meeting.
6Look at the camera
As a general rule, you should treat video conferences the same as if you were meeting with your client face-to-face. Pretend the camera lens is your client's eyes; give them the respect and focus they deserve. Move your eyes as naturally as possible, and try not to get distracted by items off screen. Do your best not to stare at your own displayed picture on the screen.